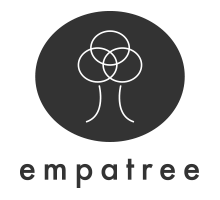 I'm a little invention with a big mission:
Nurture empathy & bring people together.
Thanks to all of you who have tested and enjoyed our 1st demo-prototype, empatree 0.3. We are now learning from all your precious feedbacks, and getting ready for the next version.
Are you a company willing to boost empathy within your employees? Contact us at talk (at) empatree (dot) com. We will be happy to help you.
Stay tuned: version 1.0 'The Force' is coming soon. Sign-up & be the first to try it. It will be fun!